About Us
West Branch Sportsmen's Club is a nonprofit corporation, 501 (C) (4), of the State of Michigan. We are a Members Only Range and are not open to the general public except for specific events. New membership will always be considered.
Membership Fees
All renewing members must have paid the one-time lifetime initiation fee to West Branch Sportsmen's Club
One-time Lifetime Initiation Fee: $50.00
Annual Regular Members Dues: $50.00
Our Mission
The purpose and intent of this Club is to promote conservation, education, the shooting sports and sportsmanship.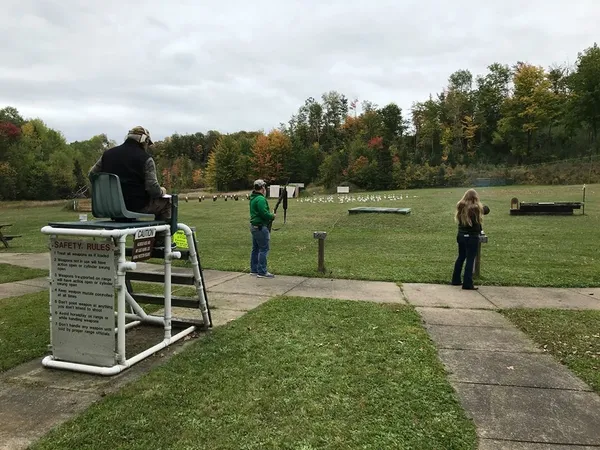 Our History
The West Branch Sportsmen's Club was founded in 1958 by 10 charter members. Three main interests were to promote sportsmanship, the shooting sport and also comradery among the members. There is no knowledge of the early activities of the club. They did have shooting facilities at John "Eskid" Johnson's Farm. Meetings were held at members homes or camps. It is believed The Membership was no more than 25 at that time.
In 1972 some property became available at 1888 Engman Lake Road. It belonged to Grant McCally, was approximately 4 and a half acres and had a small camp on it. At the time Grand and his wife were in a divorce proceedings. The Judge ordered him to pay his wife five hundred dollars as settlement, he paid her in pennies. An assessment of $200.00 per member was established to help pay for the property. A trap range was established, also some rifle and pistol shooting areas.
The membership has increased over the years to now being limited to 125. It is open to all race, color, creed, and gender. As with additional membership the facility had to be improved. A new covered bench rest rifle shooting area was established for 25, 50, 100, 150 yard targets. The trap range was improved in 2000, and also a covered pistol shooting area was built.
As membership grew, the clubhouse became too small. In 2002 a new 30 x 40 building was built. The new clubhouse included a full basement and modern facilities. Most improvements on these projects were done by club members. Members have the use of the facilities whenever they want. We have been able to purchase some additional property through the years and now have a total of 27 acres. In 2019 an expansion to the range included the addition of a 300 yard range.
Activities at the club are many and include opportunities for members and the community alike:
Trap, pistol, and silhouette shooting one night a week during the summer
UP Predator Challenge hunt in the 18th year occurs every winter
Annual Turkey Shoot which has been going on for over 30 years
Hunter Safety Education Classes offered for 20 plus years
CPL Classes offered by certified club members
Rifle Sight-In Days have been offered to the public for over 30 years prior to the opening of deer season
~Information provided by Bob England, long time club member